Each vehicle has to observe the legal traffic and operating conditions. Deviations from the rules and the lack of an inventory of the fleet status may lead to increased expenses due to fines. The SafeFleet Portal helps you get a clear picture of the legal documentation or the deadlines and to be able to monitor the fleet in order to ensure that all legislation and internal rules are complied with.
OBU One
OBU One is a solution for automatic toll payment in the HU-GO system in Hungary. The automatic payment is activated upon the installation of OBU One on the vehicle and, based on the information sent by OBU One, the amount of the road tax in the HU-GO system will be charged directly from the customer account. In this way, the drivers may continue their transport activity in Hungary without worrying about the transportation tickets.
Document expiration
Through this function of the app you can set the expiration date for the vignette, motor vehicle liability, car insurance policy, leasing, periodic technical inspection, service inspections, oil or tire changes. Also, you can set customized fields for other documents which you want to track, such as the vignettes for various countries.
Tachograph data reading
Real time data reading regarding driving and pause hours reduces both car accidents and transportation fines because the dispatch can permanently monitor driver activity, taking immediate measures. SafeFleet offers this facility to give an increased efficiency and a better track, driver and vehicle usage management to transportation companies.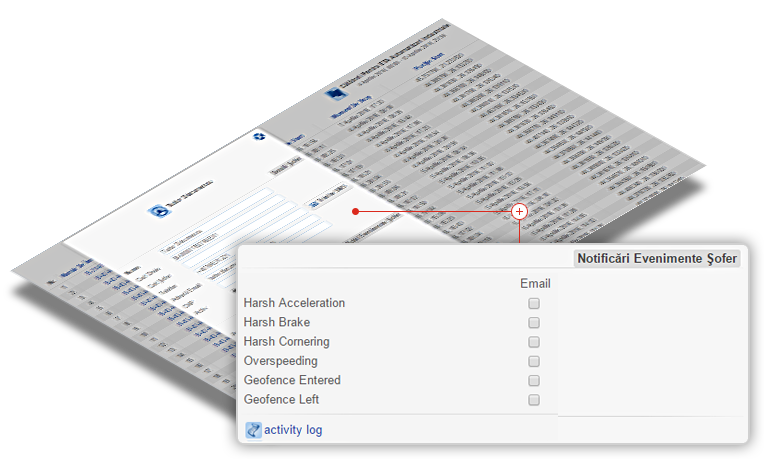 Speed notifications
With SafeFleet Portal you can set speed limits and you will receive notifications when these speed limits are exceeded. This app also offers the possibility to monitor if the vehicles exceed different speed limits, based on the road segments travelled by them.
Uploading documents
For a complete record of the documents related to drivers and the vehicles they drive, the app allows the uploading of files in image format or PDF format for mandatory insurance, driving licenses and so on. Anyone having access to the app can view these documents directly from the SafeFleet Portal.